The biggest news this time is that velocity and fx text values are placed in the lines below if there isn't space on the current line, and if there is space in the lines below. This way we get rid of the "xxx" values: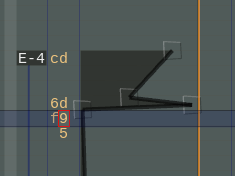 And furthermore, if there isn't space below, you will always be able to see the text values by zooming out enough to make enough space (press shift + down).
Besides this, the release contains a few bug fixes and minor features.
Changes 5.9.74 -> 5.9.76:
Editor: Only change the tempo multiplier value of
the initial block when dragging the tempo
multiplier slider. This also fixes undo.
Undo: Don't start at undo level 5 when loading
song.
Mixer: Also delete corresponding seqtrack if
deleting a seqtrack instrument. (Earlier, the
instrument was just recreated immediately right
after being deleted.)
Build: Fix building faust when the
INCLUDE_FAUSTDEV_BUT_NOT_LLVM environment variable
is set.
Mixer: Change default color for the border of
current mixer strip from green to white.
General: Make sure there is always a current
instrument.
Bottom bar: Fix tooltip for the standard velocity
slider.
Mixer: Let arrow keys change current instrument.
Editor: Play notes in other tracks as well when
"Edit lines" is 0 and we add a note.
Menus: Add "Set Edit Lines 6/7/8" to
Editor Edit -> Note.
Editor: Let CTRL_L + 1L1 set "Edit Lines" to 0.
Editor: Change keybinding for Switch Scroll Play
from CTRL_L + 1L1 to SHIFT_L + 1L1.
Editor: Show velocity text and fx text on line
under, if free, to avoid "xxx" entries.
Editor: Remove the default ALT_L + T and CTRL_L + T
keybindings. (The function
"switchTrackNoteShowType" isn't very useful
anymore.)
API:

New: setCurrentInstrumentLeft,
setCurrentInstrumentRight,
setCurrentInstrumentUp, setCurrentInstrumentDown,
mainMixerIsModular, setMainMixerIsModular,
switchMainMixerIsModular, gui_getGlobalX,
gui_getGlobalY, gui_getMainMixerGui,
gui_getMainMixerStripsGui,
gui_getMixerStripsGuiInActiveWindow,
gui_isActiveWindow.
Add optional arguments 'blocknum' and
'windownum' to undoReltempo and setReltempo.