About Radium
Radium is a music editor with a new type of interface.
The advantages of this interface compared to piano rolls (the normal sequencer interface), are that note editing is quicker, and that more musical data fits on the screen.

The advantage of this interface compared to trackers, is that note positions and effects are edited graphically, which is both quicker, provides more vertical space, and gives a better musically overview.

However, despite it's unusual appearance, it's a design goal for Radium to be straight forward to use, and easy to learn. It should not be harder to learn Radium than any tracker or most midi sequencers.
Quick start
Load the demo song in the File menu.
Play by pressing "Alt Gr". Stop by pressing Space alone.
(Alternatively: press Right Cmd + Space instead of "Alt Gr". Look in the "Play" menu for other alternatives.)
Press TAB to switch between the most common windows configurations. (1.9.12)
Add a new note by pressing a key. Change octave with F1 and F2.
Change the volume of a note by holding Alt Gr and adjust with Left/Right arrow. (Or edit with the mouse)
Delete or stop notes by pressing "Delete" or "a".
Add effects by pressing right mouse button.
Adjust tempo by dragging the red slider with the white background in the bottom left of the editor window.

Tempo can also be set by moving the cursor to the "BPM" or "LPB" track and press return, or by editing tempo automation.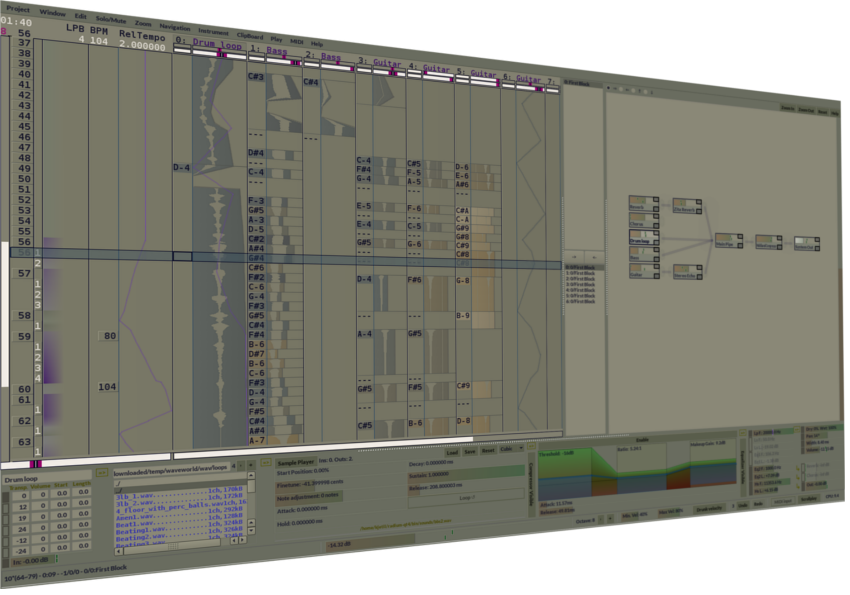 Features
Open source. Radium will never disappear.
Plug-ins:

LADSPA and VST + several built-in plugins:

20 Physical modelling instruments
2 Soundfont instruments
1 Sampler instrument
High quality multiband compressor, reverb and limiter.

More than 100 LADSPA effect plugins are included. (OSX and Windows)
All Sound Objects have built-in high quality filters and equalizers.

Modular mixer. Notes, velocities and audio signals can be routed to any other audio object.
Pure Data is embedded. Pure Data (or "Pd") is a " Real-time graphical dataflow programming environment for audio, video, and graphical processing" which lets you make your own sound effect or musical data. (Linux only)
Tickless:

Notes, tempo, and effects can be placed anywhere on a line. (unlimited precision)
Line-split. Easily split lines for sub-line note editing.

Arpeggiator
Sub-note pitch settings and glide between notes.
Automation:

Effects automation
Tempo automation
Velocity automation

Polyphonic tracks
No limitation on the number of:

Blocks
Tracks
Lines
Undo/Redo

Zoom in/out. Press Keypad Plus / Keypad Minus, or F5/F6, to zoom in / out.
Blazingly snappy graphics.
Import standard MIDI files and MMD2/MMD3 modules
Note sequence effects such as transpose, quantitize, glizzando, invert and reverse.
Configurable key bindings, menues, fonts, and colors.
Extension language support. Write programs that generates music or modifies your songs.
Western style scores can be generated from radium songs with Common Music Notation (CMN).
---
Contact:
k.s.matheussen@notam02.no
Page was last updated: 2015-04-02