About Radium
Radium is a music editor with a new type of interface.
Compared to the normal sequencer interface editing is quicker and more musical data fits on the screen.

Compared to trackers, note positions and effects are edited graphically, which should be quicker, provide more vertical space and give a better musically overview. (Everything can also be edited by text, like in a normal tracker)

However, despite its unusual appearance, it's a design goal for Radium to be straightforward to use, and easy to learn. It should not be harder to learn Radium than any tracker or most midi sequencers.
History
The development of Radium started in 1999 based on ideas developed 1997-1999 while extending the Octamed tracker on the Amiga. Since then Radium has been ported to Linux, Windows, and
Mac OS X
. The first public version of Radium was released in year 2000.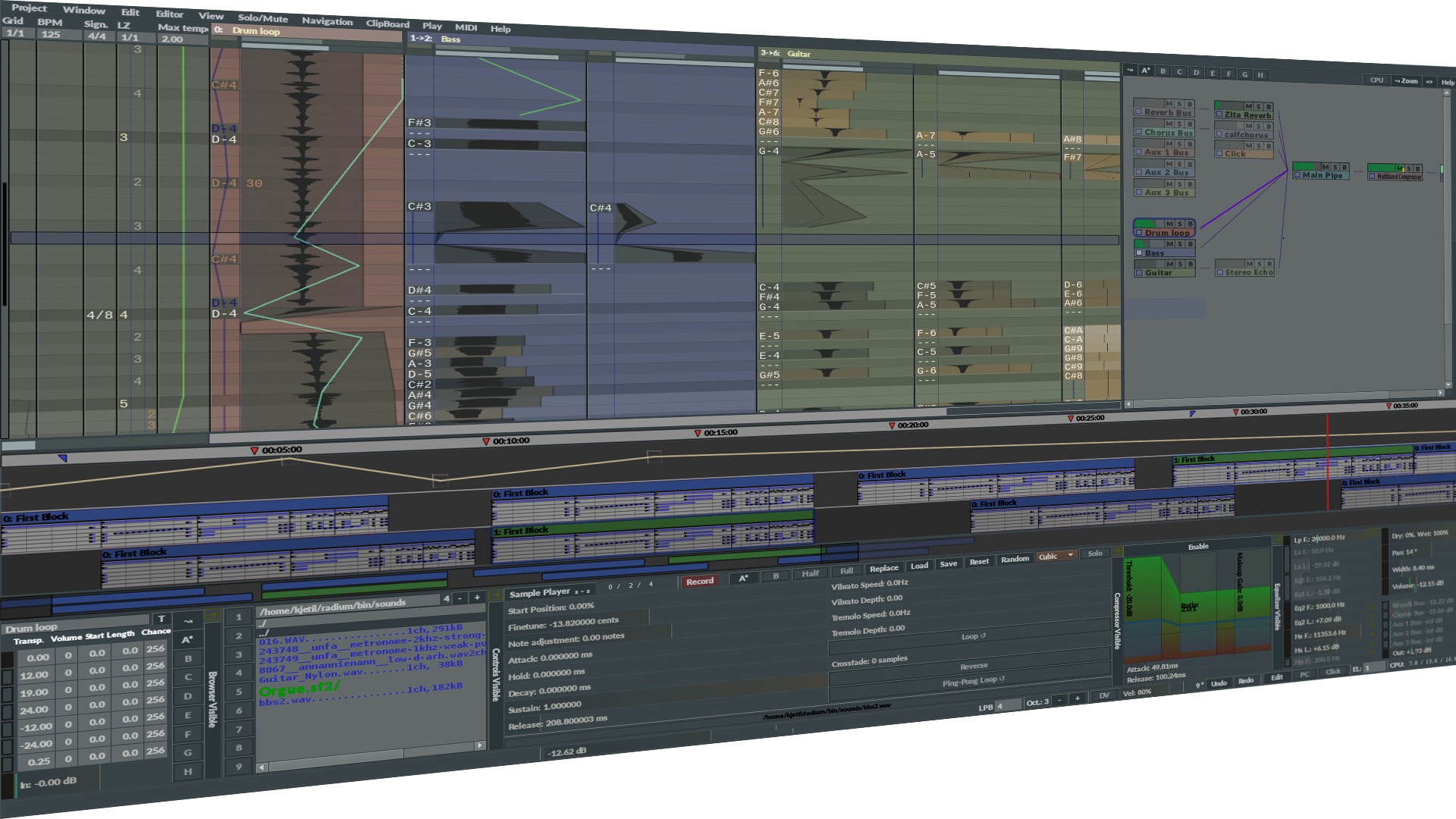 Some Features
Velocity automation
Effect automation
Pitch automation
Tempo automation
Smooth scrolling
MIDI sequencing
Multitrack hard disk recording
Optional piano roll
Tickless
Swing per track
Modular mixer and mixer strips
AU, LADSPA, VST, and VST3 plugins
(More than 100 LADSPA plugins are included)
Several built-in effects and instruments
(virtual instruments, etc.)
Pure Data embedded.
(Linux only for now)
Faust embedded.

Various types of zooming
Microtonality
Extension language support for Python and Scheme.
Large parts of Radium itself, for instance the Mixer GUI and all mouse handling, is scripted in these two languages.
Scores can be generated with Common Music Notation (CMN) (not maintained)
Open source with a straightforward and easy to use build system
Quick start
Load the demo song in the File menu.
Play by pressing right shift. Stop by pressing Space.

Add a new note by pressing a key. Change octave with F1 and F2.
(Or record from MIDI input)
Delete or stop notes by pressing "Delete" or "a".
Add automation by clicking right mouse button in the velocity area of a track.
---
Contact:
k.s.matheussen@notam02.no
Page was last updated: 2017-08-10